Allister Nesbitt 1960 – 2017
It is with a great deal of sadness we mourn the loss of Carole Fleet's son Allister.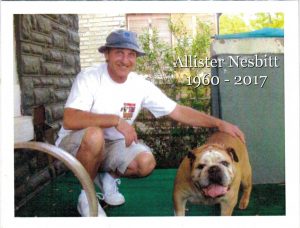 Nesbitt – Allister John Terrance formerly of Ipperwash passed away on Saturday, December 30th, 2017 at University Hospital in London.
Loved and missed by his mother Carole and stepfather Ralph Fleet. Loved brother of Kimmerly (Kimberly) Nesbitt, Cheryl Blancher, Valerie Nesbitt (Brian), Christina (Chad) Davidson, Kelly Sonke (John), many nieces, nephews, friends and best friend Duke. Predeceased by his father Albert, his sister Theresa and brother Phillip.
A memorial service will be conducted on Thursday, January 4th, 2018 at 12pm at The Church of the Epiphany, 11 Briscoe St W, in London. Reverend Teresa Corrigan officiating. A visitation will take place 1 hour prior to the service. A spring Interment at Ward Cemetery.
Memorial donations appreciated to The Church of the Epiphany. Please leave a memory or condolence online at www.GilpinFuneralChapel.com