Upcoming Events
UPCOMING EVENTS
Summer 2019
Each Sunday. 9:15 a.m. And 11:00 a.m. Join us for a light lunch after the 11 o'clock service.
Bible Study with The Rev. Peter Leonard.
Every Tuesday at 10:00am. The first 45 minutes is a celebration of the Holy Eucharist. There is a short break for refreshments then Bible Study from 11-12.
Tea and Talk. 
Tea and Talk is on the second Thursday of the month.
 Next tea and talk Thursday, February 12 at 2 PM
Here are some other items to put on your calendar
Invitation: Remember to  let people know they are welcome to be a part of our church of friends and family.
Euchre and Cribbage Mondays!
Last Monday of every month
Doors open at 12:45.
All Welcome
Friendly games.
Fun Afternoon
Free Coffee, Tea and Cookies
Next Euchre/Cribbage Monday

May 27. 2019
If you have an unused cribbage board at home
please consider loaning it to us
Upcoming Events at Epiphany Spring 2019 (High School Hours available).
*Celtic Shift Summer Kitchen Party.
This  Saturday June 8.  (Stephen H, Dave N., Amy B.)  Moose Lodge, 6 Weston Street ( off Wellington near Grand Ave.) Doors Open and Drinks at 6:45 pm. Music at 7:30 pm. $15 at the door.It would be great to see you if you can make it. If you can help us spread the word we would greatly appreciate it.  Thanks a bunch.
Stephen
MANOR PARK EVENING POST IS COMING
Dolphin Painting Raffle – June 15
The Dophin painting was won by Bette Cunningham. Congratulations Bette
*Jeremy Smith. Afternoon Concert.  Aka John Denver. July 21.  1:30.  $10 advanced.  $12 at the door.
Epiphany Quilters
Once again the Epiphany Quilting Society will get together to make a quilt. The next meeting of the Epiphany Quilters society will be Tuesday May 28.
XXXXXXXXXXXXXX
Last year's winner of the Quilt was Bruce Jackson. Bruce says he's always cold when he gets to the church on Sunday Mornings, so he will leave the quilt here. He will use it to warm up before the service.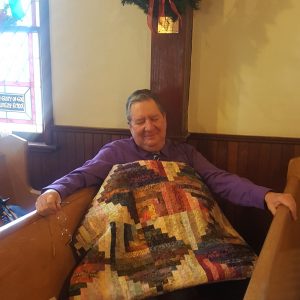 The Epiphany Quilting society was formed in the spring of 2017 with our members being Sandra W who helped with cutting, Rev Teresa, Carole H, Sue D, Janet, with Carole D dong the sewing. Adam came and sewed two blocks too. They paper pieced the blocks which was a new skill for most. That produces the most accurate blocks which was important as most members had never sewn a quilt before.
The quilt top is made of batik fabrics which has a great thread count for longevity and rich colours. By October all the blocks were made. And it was quilted and bound by March. The Quilt was Blessed at the March 22 Sunday Service.
The Society had lots of fun making this quilt plan to raffle it off during the year. The draw to be made New Years Eve. The quilt group is hoping to raise moneys towards the work of the Church (especially the food cupboard).