Monthly Archives: July 2020
All Saints
At the firehall three bells indicates all safe home. At Epiphany on all saints day we ring our bell as each name on our All Saints list is read. When everyone's name has been read we ring the bell three times to indicate all safe home.
Here is our All Saints List
Rae Whittington
Stan Whittington
Catherine Whittington
Billy Whittington
Barb and Ross Turner
Bill and Mary Whale
Les and Ethel Whittington
Robert and Marjorie Williams
Robert Williams
Lindsay Williams
James and Susan Whittington
Burt and Goldie Black
Russ Bell
Jack Davies
Ken O'Liari
Eleanor O'Liari
Keith Lindsay
Gerald, Doug, Robert
Randy and Ricky Gillan
Leo and Catherine Corrigan Patrick Corrigan
Diane Buie
Ben and Gert Smallman
Stew and Molly Tack
Helen Jamieson
Don McColl
Cameron and Jean Stewart
Douglas Stewart
Marion Lyons
Melba and Tony Zanni
Glenn Whittington
Betty Whittington
Susan Christensen
Janet Whalls
Fred and Janet Haskell
Laura Freeman
Mary, John and David Sylvester
George and Delores Walker
Bob Bonnell
Ernie, Thelma, Bill and Helen Brereton
Theo Joyes
Annie and Howard Aldington
Vic Thompson
Kathy Roedding
Tracy Aldington
Keith and Doreen Winterton
Bert and Mabel Winterton
John and Alta Wilson
Florence and Bill Brock
Ellen Brereton
Joe Bowman
Cliff Varey
Ted Varey
Peter Scott
Jean-Pierre Tremblay
Daniel and Helen Bonner
Florence and Willis Ball
Ev Sweet
Robert "Bob" Cyril England
Phyllis Mennell
Joyce Gillan
Donald Hawkins
June Ball
Dianne Walker Barfett
Lisa Aldington
Raymona Joyes
Fred Bowman
Norman Watterton
Monneen Elliott
Jim Maguire
Norma June Barr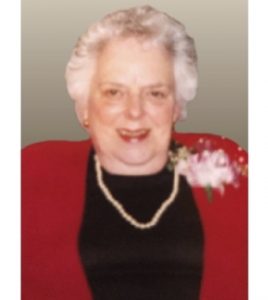 BARR, Norma
June

(nee Walker)
In her 95th year with her family by her side, Norma passed away peacefully at St. Joseph's Hospice in London, Ontario on July 23rd, 2020.
Predeceased by her husband James Barr (1988), daughter Susan Thomson (2016) and siblings Bill Walker (1990), Phyllis Mennell (2018), George Walker (2005) and David Walker (1991). Norma is survived by children Carolyn (Brian) Bouchard, Peter Barr, Julie (Steve) Clarke and grandchildren Andrew and Ian Thomson, Christopher Bouchard, Lindsay Meroniuk and Stephanie Bouchard, Kyle, Craig and Lesley Barr and Timothy and Jillian Clarke. Norma is also survived by sisters Sheila Stafford, Helen Johnson, Gerry Davis and Carole Hawkins.
Cremation has taken place. A memorial service to celebrate Norma's life will be held at a later date, after the COVID-19 pandemic. Sympathy donations may be made to St. Joseph's Hospice, 485 Windermere Road, P.O. Box 1449 Station B, London, Ontario N6A 5M2, the Humane Society London & Middlesex, 624 Clarke Road, London, ON N5V 3K5 or to Church of the Epiphany, 11 Briscoe Street West, London, ON N6J 1L9. Arrangements entrusted with A. MILLARD GEORGE FUNERAL HOME, 519-433-5184. Online condolences, memories and photographs shared at 
Published on July 28, 2020
Hi Everyone

In the past Epiphany has taken a break for the month of August, so the Flowers in the sanctuary program sat idle. This year with the Pandemic all around us we decided to honour leaders from our past. This month we wish to honour Rev Mary Wood. Rev Mary holds a special place in my life as she was the one who led me to Epiphany. Rev Mary assisted at Epiphany from 2002 to 2012 and is now living happily in retirement in the town of her birth, Shawville Quebec.
---
Bible Readings for Sunday Aug 09

Here are our weekly recommended Bible Readings for Aug 09
Our Prayers ae asked for:
Pat and Tony; Linda, Allan and Aunt Frankie; Jim, Henry; Jan; Sylvia;  Carol; Mike;  Avery;  Ralph; Linda Melanie; Marlene; Pam; Zaden; Kendra; Bill, Sheila, Jessica, Jamie Nancy & Clyde; Sylvia;   Mary;  Keanna,  Ella; Alex; Sonia; Evelyn; Marion; Mark; Dan; Alanna; Howe; Jeff; Brian; Doug; Alex,  Gord; Jim . Jack; Pat; Grant; Kathy; Lynda; Diane; Jean; Ola and Roman; Mildred; Brian; Belinda,;  Kim; Edie; Ross; Francis & Bill ; Jeff;  Diana, Ian, Edna, Matthew & Annika; Evie & Rodger; Darrin; Joanna; John & Lynda; Val; Grace; Craig; Erika.
From Rev Teresa
*Links for July 26 and August 02 Services in case you missed them.
July 26
Aug 02
____________________________________________________
*Pastoral Phone Calls.  In these unusual times, Please do not hesitate to call.  To chat, to share, to touch base.  Teresa 519-671-0577

A Message to the Diocese from Bishop Townshend
Dear friends,
Many of us are deeply missing the opportunity to gather as church to worship God.  Premier Ford's statement today that worship services may resume in many parts of our province has been greeted with both hope and anxiety by many Anglicans.  Ten days ago, together with the provincial House of Bishops, I decided that we would not be making any changes in how we use our church buildings for worship until after Labour Day, September 7.  Nothing has changed: church buildings may be used to offer online worship (no more than five people present to lead the service, following all current church guidelines) and to provide essential ministries such as food sustainability ministries or 12-step programs.  No indoor gatherings for worship will be held in churches in the Diocese of Huron until after Labour Day at the earliest. This will provide us with the opportunity to plan well for September, and to get some summer rest.
Some parishes have been wondering about holding outside worship during this good weather.  That is currently under consideration.  I will have more to say about that in a week or two.
Thank you for your patience and understanding as we prioritize the safety of all.
Yours in Christ,
+Todd
Bishop of Huron
*Our Weekly Service will now be on the website by Saturday.    If you have trouble getting it, just email, and we can send it out to you.  Thanks for taking part.  So far one week we had almost 200 worshippers, last week we had 100.  *The Church Website You can just click here:  http://www.thechurchofepiphany.com/  
*Pop Cans for Keanna.
*Pastoral Phone Calls.  In these unusual times, Please do not hesitate to call.  To chat, to share, to touch base.  Teresa
*Service September 13?  We are hoping to start services September 13.  It will be socially distances, with lots of safety measures.  But at least we will be back in our church.  Stay tuned for updates.  We will send out the service by internet for those who do not feel an in person church service is the best option for them at this time.
*Our thanks to the people who are continuing their envelope giving's because the church expenses continue, even while we are not at weekly worship. We are missing our fundraisers.  If you wish, if you are able, you may mail your donation to:
Mrs.Barb Smallman.  Envelope secretary
4860 White Oak Road
London, Ontario
N6E 3Y8
519-680-0649
*Food Cupboard.   For needs text Butch. 519-615-9106. 
*Are you able to help water our garden?  Maybe pull a few weeds?  Please drop by.  Thank you
* Thank you to Adam for the technical work.  Thank you to  Ron S.for his faithful work on the website.  Thank you Stephen and Anusha for the music.
 *There are three ways to contribute at Epiphany : Prayer for the church; Help at events; donations if possible. Our Lord knows us.
*Thank you for your generous love of Epiphany.  Our Church does much good, quietly, without fanfare.   Let's all keep up our Good Work!
The Little Church that Cares
www.thechurchofepiphany.com
Contact: Rev. Teresa Corrigan
email: teresacorrigan1@gmail.com
phone: 519-671-0577 [cell]
The Church phone is unmonitored. Please feel free to leave a message and we'll get back to you. 519 432 2837